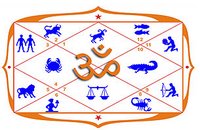 People keep asking me about free resources on Internet where they can learn astrology. This blog has lots of astrology articles whereas related website
www.AstroSage.com
provides all the necessary tools to create a horoscope. I have written
tutorial
but that is on KP System which is advanced system of astrology and can be slightly confusing for beginners. There are also plenty of
free e-books
available on Internet, but those as well not that well suited for beginners. As we know there are many resources on Internet, but it is difficult to find a systematic tutorial on Vedic astrology for beginners.
Having said that, Now-a-days, I generally recommend these two online tutorials to Jyotish enthusiasts -
Both the tutorials are from scribd, so can be downloaded in PDF format for later reference. The first tutorial based on KN Rao's PAC DARES methodology which is a nice way to explain some important Jyotish concept. The second tutorial is comprehensive enough to give a good start to a beginner.
I must tell here that there are too many systems in Vedic astrology and no tutorial and no book can cover them all. At the end of the day, an astrologer has to devise his own methodology which suits him most. These tutorials will just help you getting basics and you should refer to the e-books mentioned in the related article section to improvise your knowledge further.
Related Articles:
1.
Astrology Tutorials by Astrologer Punit Pandey
2.
Free Vedic Astrology E-Books
3.
Krishnamurti Paddhati Tutorial
4.
Vedic Astrology Books and Authors for Beginners