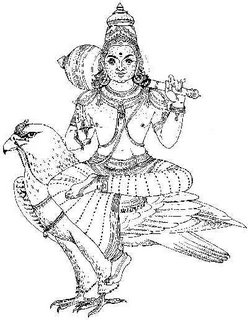 A penumbral lunar eclipse (upchhai chandra graham) will occur on August 6, 2009. The eclipse will last for about three hours. The August 6 grahan will not be visible to the naked eye as its magnitude is only 0.402, according to NASA. As the magnitude of this chandra grahan is so low, there will not be any significant astrological impact. This chandra grahan should be ignored for all religious or astrological purposes.
Next major lunar eclipse will be on New Year's eve 31st December 2009 full moon day or bright half of Hindu Paush month (Hindu Paush month, shukla paksha, Poornima). This eclipse will be on Ardra Nakshatra and Mithun Rashi (Gemini sign). This chandra grahan will be visible in through-out India. According to Indian standard time, entry time of the eclipse will be 24:22 (night 00:22 AM), max will be 24:53 (night 00:53 AM), and end will be 25:24 (night 01:24 AM). The total time of the eclipse will be approx. 1 hour 3 minutes.
As a partial lunar eclipse, this will also be visible in parts of Russia, China, Mangolia, Nepal, Pakistan, Afghanistan, Iran, Iraq, Britain, and quite a few other European and Gulf countries.