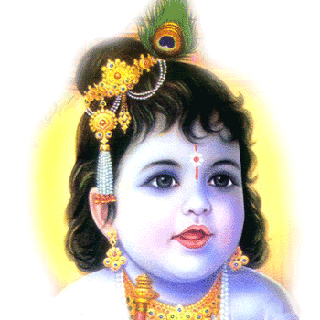 Krishna Janmashtami is one of the main festivals of Hindus. In 2009, Janmashtami is being celebrated on August 14th in Northern parts of India, while date of Janmashtami is 13th of August in other parts.
According to Hindu mythology, Lord Krishna took birth as the son of Devaki and Vasudev on the eighth day of the dark half (Krishna Paksha) of Bhadrapad month, when the Rohini Nakshatra was ascendending. This is the reason Rohini Naskshatra has given special importance for this festival.

This festival is known with different names in different parts of India e.g. "Krishnashtami", "Saatam Aatham", "Gokulashtami", "Ashtami Rohini", "Srikrishna Jayanti", "Sree Jayanthi" or sometimes simply as "Janmashtami".

The festival of Janmashtami is observed with lot of gay and happiness all over India. Special poojas are performed both in homes as well as temples. The entire day is devoted to remembering and singing the praise of Lord Krishna. Devotees welcome and celebrate the birth of their favourite god with lot of fervor.