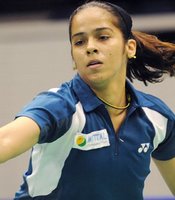 Abhinav Bindra, by winning the gold medal, has not only made us proud, but also increased our expectations. We Indians, who never expected anything from Olympics, now expecting more gold. Olympics are not over yet, so it seems a fair expectations.
I am not following Beijing Olympics closely, so I don't know who all are there in the race. Two name that news channels are talking about are Rajyavardhan Singh Rathod, - shooting and Saina Nahwal - badminton. I thought it would be good to give a try to horary astrology in figuring out what is the possibility of Saina Nahwal winning the medal? What astrology has to say on Saina Nehwal's success
In absence of birth time what to do? Astrology has provided certain tools to answer such a question. In my astrology research forum, we tried various methods and received fair bit of success.
Though I must caution that the success rate is much lower than natal astrology (analysis of birth chart).
The present method that I am using is called Horary astrology or Prashna Jyotish. In this method, I am asking this question to myself
"Will Saina Nahwal Win a Medal?"
In a sub-branch of Horary astrology called KP Horary (Krishnamurthi Paddhati Horary), you require one arbitrary number between 1-249 to answer any question. I have chosen '55' in order to get my answer. Also note that you can answer only one question at a time.
The query details are as follows -
Question:
Will Saina Nehwal Win A Medal?
Date of Question:
August 11, 2008
Time of Question:
7:07:40 PM IST
Place of Question:
Agra
Now I want to talk a little technical, so if you are not an Astrologer, you can skip this section. The cuspal positions are as follows -
1st Cusp: Mercury Rasi, Rahu Nakshatra, Mars Sub
6th Cusp: Mars Rasi, Mercury Nakshatra, Mercury Sub
11th Cusp: Mars Rasi, Ketu Nakshatra, Mercury Sub
You can also cast the detailed
KP Hoaray Chart from AstroSage.com
.
For judging win, we need to consider house number 1 (self efforts), 6 (12th to 7th, defeating the opponent) and 11th (fulfilment of desire). I think 3rd house is also important as it shows courage.
Now you can see that Mars and Mercury are repeating quite often and I believe that they want to communicate something to me. Mars is in 3rd house (house of courage), being lord of 11 (fulfilment of desire) and 6th (defeating opponent). Mars is in Nakshatra of Sun, lord of 3rd in 2nd. So generally Mars is well placed. None of the detrimental houses viz 5, 7 & 12th are connected. 5, 7, & 12 are bad because these are good for opponent who is represented by 7th house.
Now have a look at Mercury. Mercury is in 3rd being lord of 1st and 4th. Out of these three 3rd and 1st are good for this question. Mercury is in Nakshatra of Ketu, the planet posited in 2nd, neutral to the question.
Mercury dasa, Rahu bhukti, and Mercury antardasa also looks OK to me, if not the great.
So according to my analysis, Saina Nehwal is going to win the medal.
It is very difficult to predict precisely which medal it is going to be, but seeing the planetary positions, she is definitely a contender for Gold.
I wish her and India all the best.
[Updates]
Saina Nehwal lost and now out of the medal race. I take full responsibility of the failure of my predictions. While writing above post, I mentioned "I must caution that the success rate is much lower than natal astrology (analysis of birth chart)". Failure in above prediction also shows that more research is needed before we can predict outcome of such events. We are also looking into the reason for failure in the KP research forum and if you are interested, you can see some of the threads here -
http://groups.yahoo.com/group/k_p_system/message/18781
http://groups.yahoo.com/group/k_p_system/message/18758